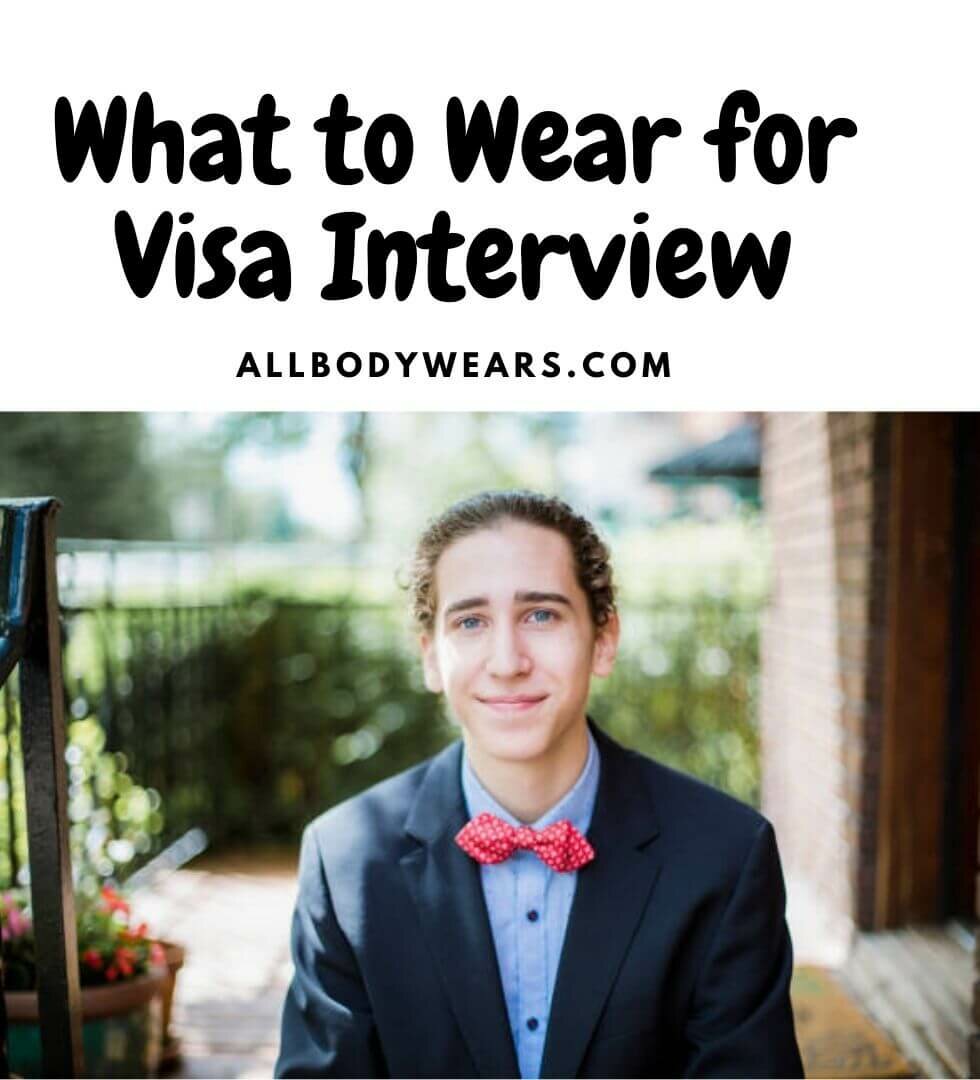 What to wear for a visa interview are normal appointment clothes. For men, don't wear stripe clothe and for women, don't wear a sleeveless dress. Be comfortable. Don't feel like you need to put on a suit if you don't usually wear a suit. Wear what you would wear if you are going to any normal appointment.
Going for an interview will make you sit down and think well about what to wear. The first impression matters a lot, so what you wear is important.
The popular interview which is the job interview has its dos and don'ts when it comes to dressing. You can't just dress any how to your interview such as wearing a cap to an interview. You would be scared that your appearance can make you lose the job.
If you are confused about your dress code for a job interview, then you should be more concerned with your dress code for a visa interview.
A visa interview shouldn't be where you just dress anyhow. If you feel you want to look cool and you just wear sneakers or slippers to the interview, it is wrong. The consul officer will see you as someone that is not serious about the visa – they won't want someone like that in their country.
When you are going for a visa interview, you have to dress smart and formally. Your dress code should speak seriousness and confidence.
When you dress well, you will be bold, you won't be nervous, and you will be calm. You dress to a visa interview the way you dress to a job interview. Your appearance must speak well about you.
Visa Interview
A visa interview is one of the stressful immigration processes you have to undergo before you will be granted a visa. Getting a visa is stressful. You have to undergo different processes before you are granted the visa.
The interview is a very important part of the immigration process. It is at this stage you would be granted or denied the visa.
When you are coming for the interview, you must come with all the necessary documents. These documents include the appointment letter given to you by the National Visa Center (NVC), your passport which must be six months valid – the six months must extend beyond the date of entry into the US.
You must also come with two colored photographs (this is different from your passport), your DS – 260 confirmation page, and original copies of your financial and civil documents.
Please note that these requirements vary from one country to the other. Verify what is required of you in your own country.
During the interview, you would be asked different questions and the manner with which you will reply is important. You are to go to the interview with your spouse and your child/children. But this is only applicable if you are all traveling together. If you are not, their interview will be scheduled for another date.
If you fail to appear for your interview within the space of one year, then your application would be terminated, your visa petition would be canceled and you won't be refunded the fees you paid. Now, the question is, what to wear for visa interview?
What to Wear for Visa Interview
Going for a Visa Interview is as serious as going for a job interview. This is because you are anticipating the approval of your interviewer. A visa interview should be taken more seriously because you are paying money and you have gone through a lot of stress to not be accepted.
Your dress code can determine if you will be accepted or not. When you dress well and you are coordinated, be sure that you will be granted the visa.
Dress Code for Men
As a man, don't wear a striped shirt to a visa interview, wear a solid color. If it's going to be blue, let it be all blue. The shirt shouldn't be of different patterns and designs.
You can decide to wear a jacket on the shirt. Wear a smart suit or blazer. Make sure it is not rumpled. You can add a tie or not. If you would be wearing slacks, they should be a dark color.
Wear neat and ironed trousers. Wear a work shoe that is okay. It shouldn't be too tight or you won't be comfortable. It shouldn't be too big or you won't be active as you would be pulling the shoes after you.
Dress Code for Women
Wear a solid color blouse. It should be short sleeves. It shouldn't be too big. If you will be wearing a t-shirt, wear a blazer on it. If you will be wearing a spaghetti top, wear a blazer also.
The weather in your country will also determine if you will be wearing a blazer or not. If the weather is too hot, then you shouldn't wear a blazer so you won't be uncomfortable.
Just wear your top. Wear a knee-length skirt; just like the skirts, you wear to your job interview. It shouldn't be too tight so that you would be able to walk freely.
If you decide to wear a gown, it shouldn't be too tight and too big. It should be fitted and at the same time free. Wear flat shoes or low heels so that you can easily walk around.
What Not to Wear for a Visa Interview
As much as you want to be free in your dressing, there are outfits you shouldn't wear.
1. Shorts
You are not going out with your friends for a stroll, so don't wear shorts. You wouldn't be seen as a serious person. Wear long trousers for your interview so that you will look smart.
2. Sleeveless
Dump your spaghetti tops at home. No consul officer is interested in seeing your cleavage. Wear a dress that would cover your chest. If you are going to wear sleeveless at all cost, put on a blazer or suit.
3. Accessories
Don't wear many accessories to your visa interview. Just a small earring and not too flashy necklace is enough. You aren't there for a fashion parade, so drop your expensive pieces of jewelry at home. Don't carry a big bag; a small purse is better.
4. High Heels
As a female, you wouldn't want your shoes to announce your arrival. Discard your heels. And if you want to wear one, it should be a short one.
5. Glasses
Fashion glasses are a no-no for a visa interview. You aren't there to chill but to answer important questions. Your eyes must be seen so you can't wear glasses. If you use glasses, you can contact the embassy to know if they allow glasses for the interview or not.
Advantages of Wearing Appropriate Dress Code for Visa Interview
A Good Impression: The first impression is very important. The way you dress will determine how people will place value on you. When you dress appropriately for your visa interview, the consul officer will be impressed and it will show that you are serious about getting the visa.
Confidence: When you dress well, there's this confidence that you have. You will be free to talk because you know you are well dressed. You will be able to answer the questions directed to you easily. There's nothing as bad as being nervous during an interview. You will begin to stutter and this would be a bad sign for you.
You Might be Granted the Visa: Your dress code might be one thing that would make you get the visa. It's not the only thing, but it can boost your points before the consul officer.
Disadvantages of Wearing Inappropriate Dress Code for Visa Interview
You Maybe Denied the Visa: You may be denied the visa when you dress inappropriately. You won't be taken seriously. And again, you are indirectly telling them that you are not taking the immigration process seriously.
Nervousness: When you dress inappropriately, you won't be free to answer the questions. You will be nervous because you would be seeing other people well dressed and you will start to worry that you won't be granted the visa. To avoid this, dress appropriately.
Conclusion
Take your visa interview like it's a once-in-a-lifetime thing. By thinking like this, you will prepare well for the interview. Don't dress shabbily. Don't wear a t-shirt unless you are wearing a blazer on it. Do light make-up. You might just opt for a lip gloss instead. Your nails should be painted with a lighter shade. Don't be shouty with your dressing. Just dress formally and be confident. If you can answer the questions correctly without fidgeting, you are sure to get the visa. Don't worry whether you'll fail the interview. Be positive.