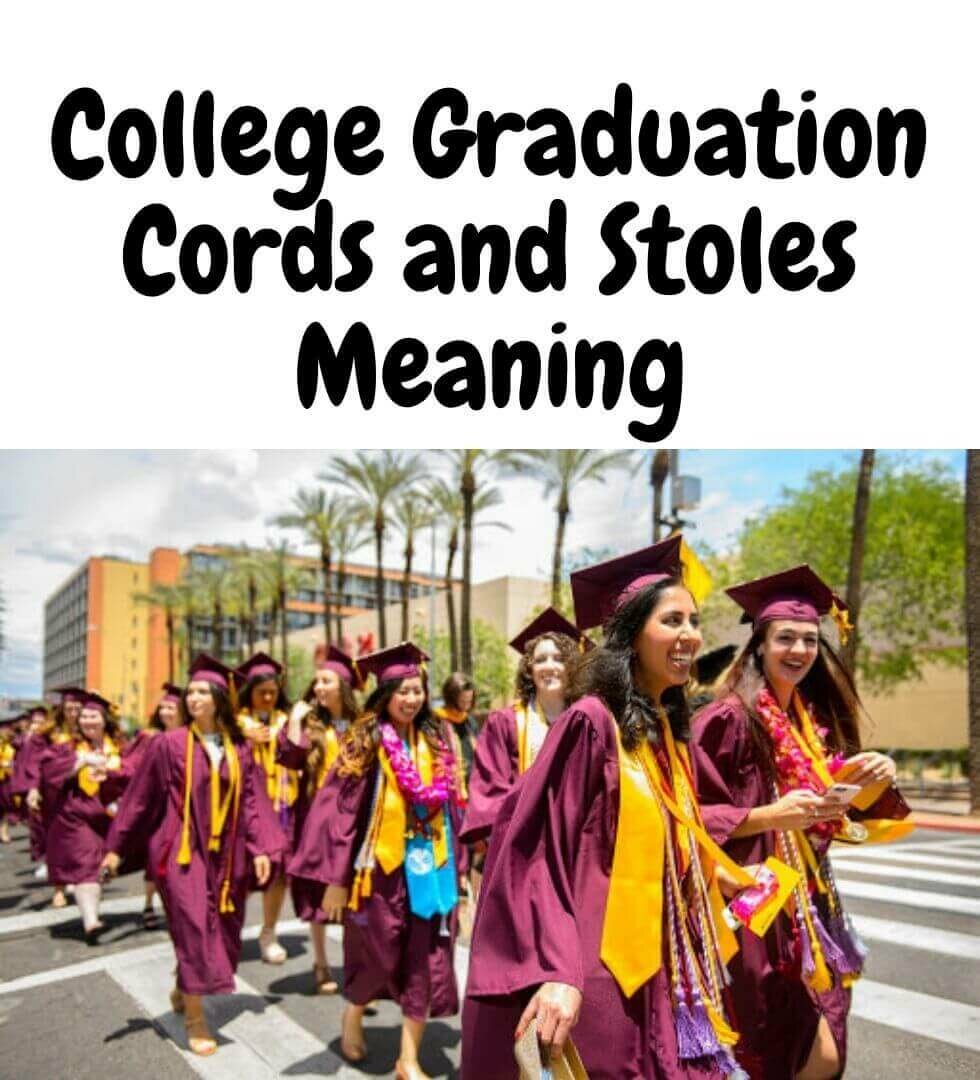 Graduation cords are long cords that are worn on the graduation robe which means academic excellence while graduation stoles are decorative vestments that have inscriptions or embroidered texts on them showing your achievements, affiliations, field of study, and sorority in college.
There's the joy that fills your heart on your graduation day. You think about all the stress you went through to study that course to have finally graduated. The joy becomes double when you graduate with a very good result. You are looking forward to what the future holds for you.
For your graduation day, you will carefully pick your clothes. You can decide to wear a suit as a guy or a gown as a lady. But for your graduation ceremony, you have to wear your graduation gown.
The general outfit for graduation is the robe, cap, mortarboard, hood, tam, and cowl. The gowns are of various colors depending on the department or educational level of the wearer.
But with this on the ground, there are the graduation cords and stoles which are decorative vestments aside from the gown itself. So, what exactly are the college graduation cords and stoles meaning? While cords are to depict academic excellence, stoles are just to show your achievements in college: either being part of a social club or help groups, etc
College Graduation Cords and Stoles Meaning
Graduation cords are long cords that are worn on the graduation robe which means academic excellence. It's an ornament that shows your academic excellence. It also shows that you were an active participant in a study or group.
The cords come in different colors based on your grades, field of study, college, and achievements. If you have more than one achievement, you sure would have more than one cord around your neck. The cord has a tassel at its end.
For academic excellence, students with high GPA wear cords. The academic honors include cum laude, Magma cum laude, and Summa cum laude.
These cords are bought from the graduation shop in the school. One can still buy his or her own graduation cords online on sites like Amazon or eBay. Graduation cords are also awarded to graduates that are members of the honor society.
Graduation stoles are decorative vestments that have inscriptions or embroidered texts on them showing your achievements, affiliations, a field of study, and sorority in college. The inscription on the stole is dependent on what you want.
The stole can also be called a graduation sash and may or may not be given by the school. If the school allows for graduates to come with theirs, they have to follow the graduation guidelines of the school to know which color to choose.
In some cases, the school has to approve the stoles that won't be distributed by the institution. Some colleges allow you to pick your colors.
Stoles are mainly made from satin but they can also be made from materials like nylon and polyester. They are draped around the shoulders. Also, a stole can be framed for future references.
Can Anyone Wear a Graduation Stole?
Since a graduation stole is worn to show academic excellence and the groups one belongs to in college, anyone can wear graduation stole (as long as you are graduating and you belong to a group).
Valedictorians and commencement speakers also wear stoles. Stoles can be worn to show your cultural heritage, affiliations, and military service. Once you are graduating, you can wear a graduation stole.
Can Anyone Wear a Graduation Cord?
Everyone can not wear a graduation cord because not everyone is graduating with very good grades. Some are graduating with a low CGPA, while others are graduating with a high CGPA. The excellent ones are allowed to wear the cords. It's a form of recognition for them.
Graduates that have worked hard and excelled are the only ones allowed to wear the graduation cords. When you perform exceptionally well, you will have more than one cord around your neck – it's an achievement indeed. Students that are graduating with honors (3.5 GPA and above) wear graduation cords.
Are Graduation Cords Important?
Graduation cords are important because it is one of the ways to identify the best students in the college. It is a way of recognizing those that graduated with honors and those that were active members of clubs and society in the college.
Can You Wear Two Stoles for Graduation?
Wearing two stoles for graduation is dependent on your institution's guidelines and your choice. You can decide to wear two stoles. It shows your achievements. The only issue is that the embroidered texts on the stole underneath won't be visible because you have another one hanging on it.
The visibility is the reason why you can wear many cords around your neck. People would see all the colors. But not the stoles, the ones underneath would be hidden. Asides from this issue, you can decide to wear two stoles to showcase your achievements.
What GPA Do You Need to Get Cord?
You need to have a 3.5 to 5.0 GPA depending on your school to be able to wear a graduation cord. This means that for you to get a graduation cord, you need to excel in your studies, as the cord is not meant for those with a GPA lower than 3.5.
Not every graduate would have a cord hanging around the neck; not to talk of two. Every graduand is graduating with a different GPA. I've mentioned earlier that the cord is worn by graduates who have excelled academically.
Academic honors are classified into three: the cum laude, Magma cum laude, and Summa cum laude. These are all Latin terms.
To graduate cum laude means you have a GPA between 3.5 and 3.7. When you have this GPA, you are going to wear a cord. Graduating Magma cum laude means that you are graduating with a GPA between 3.8 and 3.9. For the highest honor which is the Summa cum laude, you must have a GPA of 4.0 and above.
If you are a new student in college, you need to bear this in mind so that you can wear a cord or even cords on your graduation day.
What Are the Different Colored Cords for Graduation?
College graduation cords don't come in one color; there are different colors. The colors depend on your field of study or honors.
1. Gold
This color mainly represents the academic honors and membership of the honor society. It is a generally accepted color around colleges and universities for Latin honors.
2. Black
This color represents academic achievement in business, accounting, and economics fields of study. It is also awarded to students from commercial science and labor relations.
3. Silver
This color represents academic achievement in medical science, Maths, and agriculture.
4. Purple
This color represents achievement in law. Outstanding law students wear this during the commencement ceremony. It is also awarded to graduates from dental, urban planning, and architecture departments.
5. Orange
This color recognizes outstanding graduates from the theatre and drama field.
6. Red
This color of cords is awarded to students graduating from journalism, Divinity, Canon law, and public health.
7. Pink
This color is awarded to outstanding students in the music and dance department.
There are still many colors like green, maroon, and so on. The color of your graduation cords depends on what is the norm and graduation guidelines of the college. Be familiar with the graduation guidelines to know which color you would buy based on your field.
Conclusion
Graduating with a high GPA is something to be joyful about. As you are preparing for your graduation, you must be conversant with the stoles or cords you should get, where to get them, and how to get them. Having great academic achievement is something to be proud of. Being part of an honor society or fraternity is also an achievement. So why don't you showcase your achievement with your cords and stoles?